Billy Bob's Bear-a-dise Tropical Jamboree (spelled "Bear-a-dice" on sign above stage, and "Bear-a-dise" on Fatz' keyboard) is a surviving Rock-afire Explosion using the Mini-Stage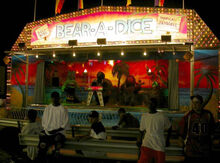 On this show, Mitzi, Fatz Geronimo, and Billy Bob all have different clothes that relate to a Hawaiian/Beach/Summer setting. Looney Bird remains unchanged, however, he now resides in a tanning oil barrel instead of an oil barrel. This traveling show has visited Heritage Fest in Downers Grove, Illinois in 2008 and 2009, the Kentucky State Fair in 2012, 2014, 2015, and 2016, the St. Joseph County Fair in South Bend, Indiana in 2013, and the Big E Fair in Springfield, Massachusetts in 2015 and 2016. The show is in very poor condition, with all four animatronics having faults in their faces and cosmetics.
On November 2, 2016, Aaron Fechter announced the show would be shipped to Creative Engineering for refurbishment. The show's restoration was completed in August 2017.
The following modifications were made during the restoration:
Billy Bob and Fatz originally wore tropical garb, they now wear their original clothes.
Mitzi now wears a Hawaiian robe instead of her cheerleader uniform.
A television monitor was added to the back of the stage for the Cyberstar videos.
More songs and acts were programmed into the show.
The stage originally was covered in a few inches of sand, the sand was removed and the stage carpeted.
Ad blocker interference detected!
Wikia is a free-to-use site that makes money from advertising. We have a modified experience for viewers using ad blockers

Wikia is not accessible if you've made further modifications. Remove the custom ad blocker rule(s) and the page will load as expected.