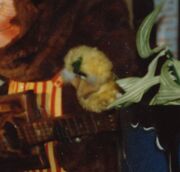 The Birthday Bird is the small yellow bird that is perched on Billy Bob's guitar in The Rock-afire Explosion. In the first ShowBiz Pizza Place location, when Billy Bob existed only as a walk-around character, the Birthday Bird was on his shoulder. There was at one point a plan to create Birthday Bird plush toys, for children celebrating birthdays.
Birthday Bird is not an animatronic, and therefore has no movements, and has never spoken.
Concept Unification
Edit
During Concept Unification, which occurred at the vast majority of ShowBiz Pizza locations between 1990 and 1992, Birthday Bird was removed completely, along with Billy Bob and was likely either destroyed, put into storage, or sold to a collector.
It should be noted, that on the Concept Unification Prototype Stage, Birthday Bird was also removed entirely along with Billy Bob.
Ad blocker interference detected!
Wikia is a free-to-use site that makes money from advertising. We have a modified experience for viewers using ad blockers

Wikia is not accessible if you've made further modifications. Remove the custom ad blocker rule(s) and the page will load as expected.