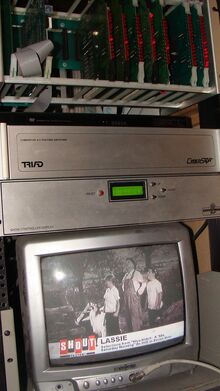 The Cyberstar is a unit that controls the animatronics' movements. A DVD player (formerly a VCR and, in the 1980s, a set of tape reels) is hooked up to the Cyberstar. The DVD contains the show audio and video along with the inaudible signals. The audio is sent to the Cyberstar which retrieves and decodes the signals.
The Cyberstar then sends signals to the the greybox (on 3-Stages), or, the card cage (on Cyberamic shows). The data is carried to the greybox on 3-Stages by way of a 26-pin ribbon cable and, on Cyberamic shows from, the CPU card, through the card interface board to the character driver boards.
During conversion to Cyberstar, certain parts of the old computer were no longer needed and removed, such as the reel-to-reel decoder board called the playback board (on 3-Stages) and data from the Cyberstar was routed directly to the character driver boards. On cyberamic shows, the reel-to-reel/VCR control panel was no longer used because of the switch to DVDs.
Ad blocker interference detected!
Wikia is a free-to-use site that makes money from advertising. We have a modified experience for viewers using ad blockers

Wikia is not accessible if you've made further modifications. Remove the custom ad blocker rule(s) and the page will load as expected.