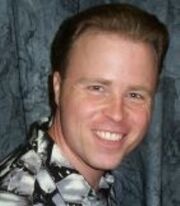 Duncan Brannan is an American voice actor who has provided voices for a number of children's entertainment characters, English language versions of Japanese anime films, and other commercial properties.
Between 1993 and 2012, he provided the voice for Chuck E. Cheese at Chuck E. Cheese's restaurants.[1] He also voiced Mr. Munch from 1993 to 1999. Additionally, Brannan provided the singing vocals for the children's icon Barney The Dinosaur on several direct to video specials based on the kids show Barney & Friends (But never did the PBS show Due to him leaving the series shortly after he got the role) in the early 2000's replacing Bob West.
Brannan has also done voices for commercials, phone-casting, industrials, narrative, and religious markets. A few of his credits are Brinker's International for Chili's, Maggiano's, On the Border and Romano's Macaroni Grill, First United Bank, Lone Star College System, Methodist Health Systems, and Sean Hannity.
Brannan also works as a freelance writer, speaker, and fine arts consultant.
He has also been credited as Duncan Brennan.
Chuck E. Cheese characters voiced
Edit
Baccano! - Denkura (ep. 7)
Baki the Grappler - Takagi
Case Closed - Ken Tomason, Oswald Burny
Darker than Black - Jean (eps. 1-2)
Dragon Ball - Babidi, Bibidi, Dr. Myuu, Ninja Mursaki, Monster Carrot
Dragonaut - The Resonance - Kasuga Nozaki
Fullmetal Alchemist - Slicer (Young Brother)
Fullmetal Alchemist: Brotherhood - Slicer (Young Brother), Fox
The Galaxy Railways - Guy Sander
Gunslinger Girl -Il Teatrino - Bernardo (ep. 9)
Jyu Oh Sei - Third
Mushishi - Tetsu (ep. 23)
One Piece - Mr. 3, Sarkies, Shepherd
Samurai 7 - Shichiroji
Spice and Wolf II - Rigoro Dedri
Yu Yu Hakusho - Shougo Sato
References
Edit
External links
Edit
Ad blocker interference detected!
Wikia is a free-to-use site that makes money from advertising. We have a modified experience for viewers using ad blockers

Wikia is not accessible if you've made further modifications. Remove the custom ad blocker rule(s) and the page will load as expected.