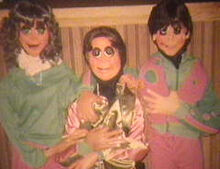 Family Album was a rare unused Caberet Test band [1] that was temporally installed at 5 locations during Pizza Time Theatre's bankruptcy period due to a shortage of Balcony Stage animatronics. The show was available at select locations in Michigan, Rhode Island and Massachusetts. The character's names were different at each location and were chosen through contests. The animatronics were made by Elnicky Enterprises, the same company responsible for the Hot Fudge animatronics that debuted around the same time.
Location
Danvers

MA

Warwick RI
Clawson MI
Warren MI
Okemos MI
Girl
Nadine

(Dee Dee)

Unknown
Unknown
Unknown
Unknown
Boy (Leader)
Randy
Unknown
Unknown
Unknown
Unknown
Boy (Backup)
Tommy-John (TJ)
Unknown
Unknown
Unknown
Unknown
[1]
Stages
Current Stages
Test Stages
Retired Stages
Cite error: <ref> tags exist, but no <references/> tag was found
Ad blocker interference detected!
Wikia is a free-to-use site that makes money from advertising. We have a modified experience for viewers using ad blockers

Wikia is not accessible if you've made further modifications. Remove the custom ad blocker rule(s) and the page will load as expected.