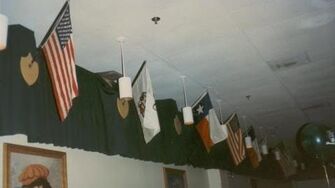 The Flag Wavers are a group of waving flags that appeared around the walls of Pizza Time Theatre showrooms. They waved to the music during an energetic chorus or grand finale.
List of Flags
Edit
1. United States
2. State
3. Chuck E. Cheese (White)
4. Confederate
5. Italian
6. Chuck E. Cheese (Red, Blue, Green, and Yellow)
• The San Antonio, Texas's 'Wazlem' location was the last location to keep their flags, even after it became a 2-Stage.
• The multicolored Chuck E. flags were made for locations that still had the Confederate flag, due to it being offensive to some people.
The Shelf, Rocker Stage, C-Stage and Balcony Stage were the only stages that had the flags.
Ad blocker interference detected!
Wikia is a free-to-use site that makes money from advertising. We have a modified experience for viewers using ad blockers

Wikia is not accessible if you've made further modifications. Remove the custom ad blocker rule(s) and the page will load as expected.