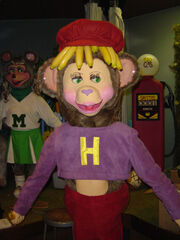 Hannah Banana was a restaurant located in the United Kingdom. Its mascot is a Welsh monkey named Hannah Banana. The restaurant also had Billy Bob and Looney Bird from The Rock-afire Explosion, which Aaron Fechter had to program special Showtapes to allow the characters to interact. There were seven showtapes produced for the restaurant[1], they were:
Grandma's Feather Bed (Original Demo Show)
Monkees / Beatles Show
Happy Together Show
Buddy Holly Tribute
Daydream Believer
Queen / Abbey Road
Sweet Tea / Country Bear
Hannah Banana (character)
Edit
Hannah Banana is the mascot for the Hannah Banana restaurant located in the United Kingdom. She is a monkey who speaks with a Welsh accent. Her animatronic is a retrofitted Mitzi Mozzarella.
Ad blocker interference detected!
Wikia is a free-to-use site that makes money from advertising. We have a modified experience for viewers using ad blockers

Wikia is not accessible if you've made further modifications. Remove the custom ad blocker rule(s) and the page will load as expected.