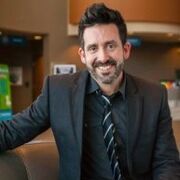 Robert Gotcher
is an American songwriter and singer who not only provided the voice of
Jasper T. Jowls
from the May 2011 show to September 2011 show, but also headed up the Entertainment Department from 2005 to 2011. Working extensively with all vocal talent on songwriting, performance, and scripting, Gotcher was at the helm of Department 18 Productions as Director of Entertainment (CEC Entertainment, Inc) for over several years. At the end of 2011, Gotcher and CEC decided to part ways, thereby leaving the role of Jasper to be resumed by
Jeremy Blaido
 in the January-April 2012 show.
Characters voiced
Edit
Jasper T. Jowls (May-Sept. 2011)
Generic Announcer Guy (July 1997-Dec 2011)
Ad blocker interference detected!
Wikia is a free-to-use site that makes money from advertising. We have a modified experience for viewers using ad blockers

Wikia is not accessible if you've made further modifications. Remove the custom ad blocker rule(s) and the page will load as expected.