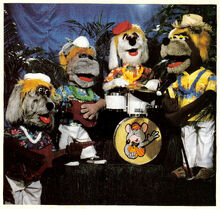 The Beach Bowzers are another group of dogs that played in the Cabaret side dining rooms at Chuck E. Cheese's Pizza Time Theatre. They were designed to resemble The Beach Boys, who were programmed to sing Beach Boys songs in their original recordings. The Beach Bowzers' animatronics were retrofitted from The Beagles.
In 1990, The Beach Bowzers' voices were changed to ones resembling those of stereotypical surfers, and also barked randomly from time to time, similar to the way that Helen Henny would cluck.
Ad blocker interference detected!
Wikia is a free-to-use site that makes money from advertising. We have a modified experience for viewers using ad blockers

Wikia is not accessible if you've made further modifications. Remove the custom ad blocker rule(s) and the page will load as expected.