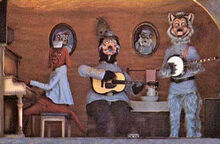 The Confederate Critter Show is an early animatronic band made by Aaron Fechter in the late 1970s. The band was a 1-stage show, and the stage was designed to look like the inside of a giant tree. The band consisted of three characters: Colonel Stonewall J. Fox, General Cornelius Bearpatch, and Major Mosby Greyhound III. The characters were all dressed as Confederate soldiers. The band was made for Magic World in Tennessee. The current location of these animatronics is unknown.
It is worth noting that General Cornelius Bearpatch is simply a retrofitted version of Friendly Freddy, and the only changes made were the addition of facial hair and a Confederate outfit. Not much is known about Major Mosby Greyhound III aside from his name and a few blurry pictures of him.
Ad blocker interference detected!
Wikia is a free-to-use site that makes money from advertising. We have a modified experience for viewers using ad blockers

Wikia is not accessible if you've made further modifications. Remove the custom ad blocker rule(s) and the page will load as expected.